You are here
Research Topics Overview
Our Approach to Research
The Center for Operator Performance funds research conducted by academic institutions and private companies. Our general approach is to conduct a small pilot effort in a particular area prior to funding larger investigations.
Research undertaken can generally be thought of as one of four types:
Information - This research informs the membership on the nature of an issue or topic. This is often a prelude to a more detailed study.
 
Benchmark – A benchmark project establishes limits of human performance or industry practices by which member companies can judge their performance and need for change. If significant change is needed, it may require the development of a method/tool.
 
Method/Tool – This research will produce a method or product that can be used by member companies to improve performance.
 
Recommended Practice – This is a set of actions, guidelines, or a methodology that has been shown through

COP

research to improve operator performance.
Performance Shaping Factors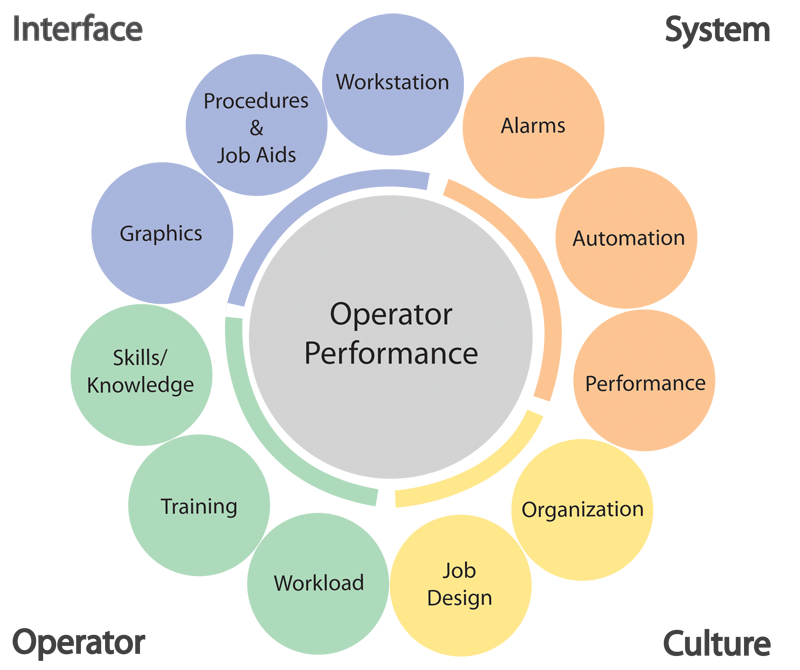 Our objective to produce high performance operators has lead to the focus on 11 key factors which shape performance and impact operations. As illustrated in the graphic, we have defined the topics by four areas: Interface, System, Operator, and Culture. Although each key factor is distinct, the research topics are not independent of nor isolated from each other. By organizing ourselves with this easy-to-understand outline, we have streamlined our process and continue to produce research projects that directly benefit the process control industry and informs the decision-making of our members.
Background
As technology and automation have increased in the process industries, more is produced with fewer operators. As these changes have occurred, the role and requirements of the process operator have also changed. For the first 100 years of the oil industry, operators were largely male, high school graduates who handled all aspects of the unit (or portion of unit) for which they were responsible. With the advent of distributed control systems, this began to change. Control of the units was being separated from the outside functions while the diversity of the workforce increased. Eventually control became concentrated in a single building, instead of scattered around local control centers. The operators in these buildings no longer monitored a process controlled by single loop feedback control, but oversaw a process wherein an advanced process control system manipulated numerous variables simultaneously. As the demands of an ever-increasing span of control made management of process upsets more difficult, safety instrument systems were installed to automatically shutdown the process should it wander into regions of unsafe operation.
The importance of the human factor in this sort of technological shift has been seen in other industries. The aerospace industry found in the 1940-50s that human performance capability was the limiting factor in aircraft performance. The 1960-70s revealed, through the accident at Three Mile Island, that humans could be the weak link in operation of nuclear generating facilities.
Explosions at Phillips Chemicals' Pasadena Complex in 1998 and BP's Texas City Refinery in 2005 revealed that the same issues that plagued the aerospace and nuclear power industry were present in oil and chemical processing.
The Center for Operator Performance was conceived to help address these issues.